ABOUT US
With 20 years' experience offering holiday accommodation on the island of Crete, we pride ourselves on understanding the diversity of holiday makers' dreams.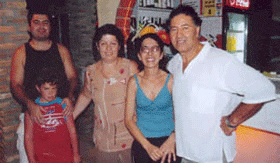 As well as offering holidays independently, we work closely with Meon Travel, Sovereign Holidays and Bravo Tours, enabling us to offer
greater flexibility in flights and holiday bookings to suit the very varied needs of our different guests.
We come from a long line of olive farmers, and more recently we started orange farming in addition to olives. Our villas stand on what were olive farming lands.
Despina (mum) is chef and Stavros (dad) is sous-chef in our restaurant on Gerani beach. Lefteris, Charoula and Stelios are our grown-up children who all lend a hand in the restaurant and bar. Gabriel is our youngest family member: our 8-year-old grandchild. We all speak English, except Stavros who just pretends to.
The people of Crete are famous for their hospitality and warmth. Our guests' feedback reflects the same about our family because we welcome all our guests with a general warmth and friendliness. Being entirely family-run, the atmosphere is welcoming, and it is reassuring to know that there is always one of the family on hand to turn to in case of any problems. We live not far from the villas as well as running the restaurant in Gerani, so we can help out with car hire, taxis, medical problems and day-to-day local information.