LOCATION
Gerani Village
Gerani is a coastal village 14km away from Chania and only 3km away from Platanias. It's a peaceful and quiet place, where one can relax and at the same time be very close to the popular village of Platanias, in case one wants to enjoy the fascinating night life. The coast of Gerani has been awarded the Blue Flag by the EEC, and is well organized with a lot of facilities such as sun chairs, umbrellas and showers while offering the chance to participate in a multitude of marine sports. Leaving the coast of Gerani, it is worthwhile taking a small walk to the nearby villages and enjoying the unspoilt nature and the unique Cretan hospitality. Pano Gerani, Modi, Loutraki, Manoliopoulo are all within a distance no longer than 4km. Furthermore one can visit the ancient city of Modea, which is just 1km from Gerani, where ancient cretan coins and other remains where found. There are many remarkable places which are waiting for you to explore and enjoy in combination with your unforgettable visit to the beach of Gerani in Crete island.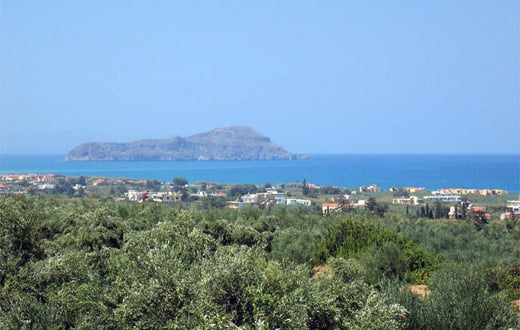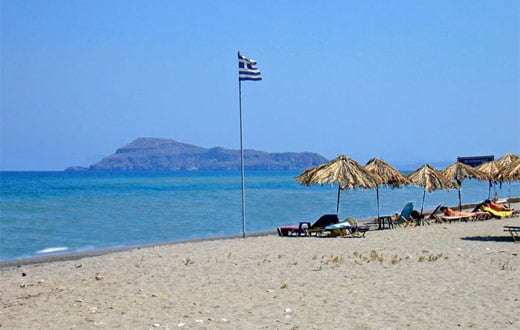 Agia Marina
Agia Marina a delightful village situated on the northwest coast of Crete. Its long sandy beaches and crystal clear waters makes this an ideal holiday location for young and old alike. Why not try jet-skiing, snorkelling, brave a para-flight, take a boat trip or just swim and soak up the sun and relax.
 
Nightclubs, cocktail bars, music bars are all available for your entertainment and pleasure. Enjoy an evening of Cretan dancing and music. Look around the many shops offering handcrafted goods and souvenirs, open from early morning until late in the evening; as are the supermarkets and other facilities available for your convenience.